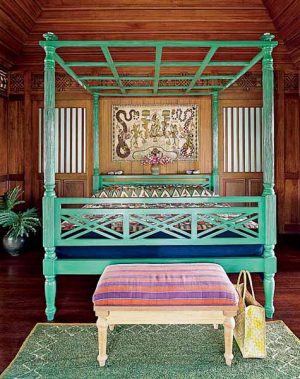 Balinese decor looks warm and cosy. Exotic rustic home decorating ideas are spiced up with unique furniture,  Indonesian art and handicrafts that create beautiful and colorful home interiors. Balinese decor brings colorful tropical home decorating ideas that feel romantic and luxurious, comfortable and artistic.
Traditional Indonesian home decorating ideas include carved wood Bali furniture, bamboo furniture pieces and home decorations, impressive tapestry, natural fabrics with floral and striped patterns, colorful palette and nature inspired designs.
Tropical home decorating ideas in Balinese style include crafts items and Bali furniture made of local wood and natural materials like bamboo, cotton, paper and straw with designs inspired by the tropical theme.
8 ways to add tropical decor theme and bright color to interior decorating
Balinese home decor, tropical theme in Asian interior decorating
Tropical home decorating ideas, Bali furniture for bedroom in rich blue color
Traditional decorating fabrics bring colorful patterns into interior decorating, creating beautiful and interesting home interiors. Bali furniture with stunning ornaments increase the effect of exotic and luxurious interior decorating.
Amazing decorating colors are a major element of Balinese decor. Inspired by gorgeous beaches and tropical forest, exotic plants and flowers, interior decorating color palette includes light and rich tones of blue, green, brown, yellow, orange, purple, turquoise, pink and red.
Unique Bali furniture and Indonesian art pieces for living room decorating
White, creamy white and very light gray color tones, combined with natural wood brown colors, complement colorful tropical theme and make interior decorating look brighter.
Top 5 modern interior trends in home decorating
Art Nouveau home decorating ideas spiced with Indonesian handicraft
Colorful floor rugs and decorative pillows, bedding in rich colors, unique Bali furniture and Indonesian art make home interiors look exclusive and charming, offering inviting bedrooms and marvelous living room designs.
Bali furniture for bedrooms and living rooms
Posted: 14.02.2012 by Decor4all