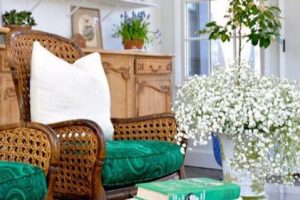 Malachite green colors are rich and beautiful. As all green colors, these modern color design hues are fresh and peaceful, symbolic and fascinating. Modern decor ideas, inspired by malachite minerals and gemstones, create fabulous home interiors and office designs that evoke images of forests, grasslands, and…

Neutral, soft pink and green colors, floral patterns and pleasant room decorating idea are main elements of Summer Flower interior trend that offers romantic and light color combination.

Nature inspired white, brown and green color combination, natural materials, floral and leaves motifs and green plants are perfect ideas for eco style bathroom decorating.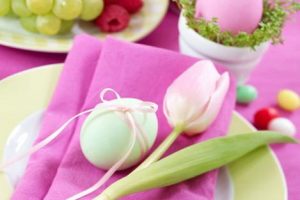 Pink and green color combinations, brighten up with contrasting creamy white and purple colors, are great for Easter decor and spring table decoration. White Easter decorations and fresh flowers, – pink and purple roses and tulips, look fantastic with tableware in white and green colors. Decor4all…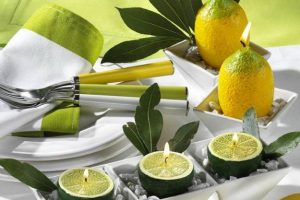 Table decorating with bright yellow and green color combinations inspired by lemons, limes and leaves, look striking, festive and unforgettable. Table decor ideas that blend lemons, limes, green leaves with white tablecloth, napkins and plates are easy, but beautiful and elegant. Decor4all shares creative and modern…

Light blue and green colors, inspired by beautiful surroundings, create airy bedroom decor. Soft colors and comfortable bedroom decorating ideas represent the elegance and simplicity of Tuscan decorating style.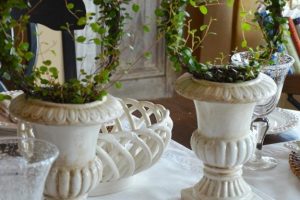 Elegant table decoration shows simplicity and beauty of natural materials and neutral colors that create relaxing and charming table setting with amazing textures and green centerpieces. Very attractive white tableware creates striking contrasts with green leaves and rattan placemats, emphasizing unique decoration patterns and adding a…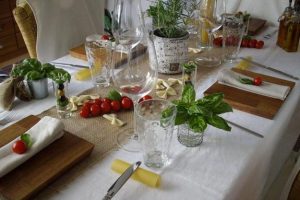 Bright party table decoration in a rich green and red color combination of the Italian flag is designed by French decorators from Pralinnette and can inspire you to try this beautiful decorating theme for your party table creating a stunning display with tomatoes, olives and edible…
Green and red color combinations, inspired by vegetable gardens, bring the Jardin Botanique trend for spring and summer decorating. Edible herbs and vegetable garden is colorful, bright and delicious. The Botanical Garden  spring and summer decorating create bright, energetic and inviting room decor with green and…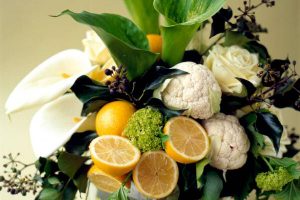 Beautiful floral arrangements make perfect table centerpieces, home decorations and gifts. No matter what the occasion is, a colorful floral arrangement with lemons will fill the room with aroma and beauty, express your feelings in a special ways and create striking and unique dining table decor….