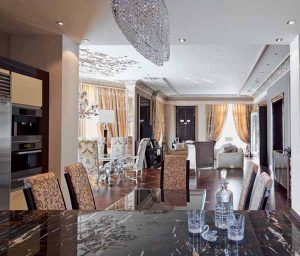 Apartment ideas from European interior decorator Marina Putilovskaya are inspired by bright personality of her customer. Sumptuous interior decorating ideas are perfect for a successful, energetic and elegant woman who successfully balances her professional career and active personal life.
Delicious and seducing like chocolate, apartment ideas by M. Putilovskaya symbolize the pleasure and joy that success brings into life. Impressive interior decorating ideas include brown colors in chocolate tones, milky and creamy shades that add softness to chocolate decorating color palette.
Apartment ideas include gorgeous chandeliers and marble floor, wood carved furniture decoration and large mirrors, mosaic tiles in white and golden colors, luxurious decorating fabrics and antique decor items that create chic atmosphere in all rooms.
Charming small rooms, single woman apartment ideas
Silver-black and lavender color combination, chic interior decorating
Gorgeous apartment ideas for a successful woman
Modern kitchen with island and beautiful crystal chandelier, luxurious apartment ideas
Luxurious. soft and inviting dining furniture set looks gorgeous with beautiful chandelier and silky drapiries. Comfortable living room furniture and silver decor accessories bring chic and timeless elegance into interior decorating.
Mirrored console table and wall size mirror that reflects amazing crystal chandelier make apartment ideas feel light and bright.
Bedroom decor in blue and purple colors, modern interior decorating ideas
Hallway interior decorating ideas are romantic and luxurious. Amazing floor decoration and ceiling design, wood carved furniture decoration and a large chandelier create spacious and chic room decor.
Traditional home decor style for large apartment decorating
Decorating small spaces, Melbourne apartment ideas
Black ad white kitchen design with modern stainless steel appliances, marble like foor and comfortable kitchen island offer beautiful place to cook and enjoy a quick snack.
Dining furniture set in creamy and brown colors, glass top table and large crystal chandelier, gorgeous apartment ideas
Functional home office has lots of storage shelves and comfortable table and chair for work. Beautiful bedroom decorating ideas in deep blue and purple colors and elegant gray and brown colors look peaceful and gracious.
10 room decorating ideas to add chic of modern Art Deco style
How to use antiques for modern interior decorating in classic style
Splendid bathroom design enriches this apartment ideas. Unique marble floor and walls, mosaic tiles in chocolate brown colors for a shower with glass door, bright mosaic tiles combination in white and golden colors make bathroom design feel luxurious and stylish.
Modern bathroom design with mosaic tiles in white and golden colors, stylish interior decorating ideas
Modern interior decorating ideas
Photographs by Federico Simma
Posted: 17.04.2012 by Decor4all