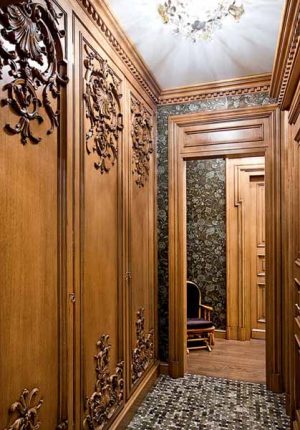 Luxurious home interiors in classic style are spectacular and seducing. Classic style creates beautiful interior decorating, which can turn even a small apartment into chic living space that reminds rooms in European palaces. Comfortable and beautiful interior decorating is perfect for creating inviting and stylish homes.
Luxurious home interiors in classic style look warm, celebrating the elegance, unique texture and golden or reddish brown colors of natural wood. Neutral and dark room colors create attractive contrasts, adding coziness into interior decorating in classic style.
Floral designs and carved wood furniture decoration, luxurious decorating fabrics and the mix of curved and straight lines add charm to interior decorating in classic style, making rooms look graceful and exquisite.
Luxurious apartment ideas in classic style
Living room design and decor in classic style
This apartment ideas from architectural design studio Gialti in Moscow include modern wallpaper in dark brown and silver color combination and classic floral designs, amazing carved wood mirror frames and modern chandeliers with crystals, soft decorating fabrics, warm room colors and lots of wood used for interior decorating.
Large living room and dining area create one welcoming and comfortable space. Home office interior decorating ideas are relaxing and warm. Wood office furniture and brown colors look gorgeous with exclusive chair and sofa made of black leather.
Dining furniture and modern chandelier with crystals, interior decorating ideas for classic style
This apartment ideas are inspired by classic Style of English homes. Chic and comfortable interior decorating ideas look simple, elegant and timeless.
Modern interior design in neo classic style, beautiful manson in Beverly Hills
Neo classic style with Art Deco elements, light interior decorating ideas
Wood and marble, silk and wool create a beautiful mix of decorating materials for home interiors in classic style.
Modern kitchen design in classic style, wood kitchen island and chairs, stylish apartment ideas
Almost neutral interior decorating color combination that includes golden and reddish brown colors look gorgeous with soft room colors selected for wood furniture upholstery fabrics and decor accessories, creating calming, interesting and welcoming interior decorating.
Art Nouveau decorating style, beautiful room decor ideas
How to use antiques for modern interior decorating in classic style
Photographs by Livshizz
Posted: 07.04.2012 by Decor4all