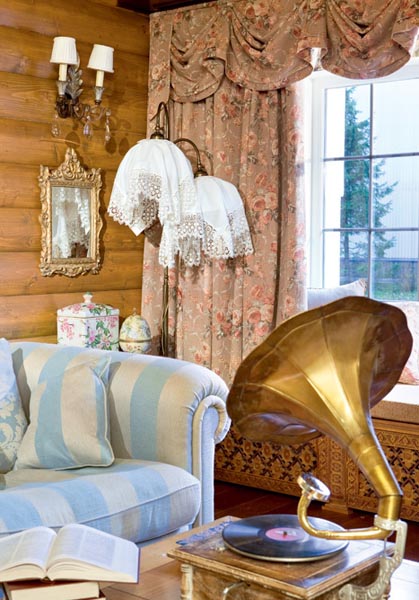 Russian interior decorating style creates traditional look. Modern interior design retain the love of luxury, chic and beauty of antique and vintage decor. Russian interior decorating style is a part of rich culture, which is always reflected in comfortable and warm, expensive and unique modern interior design ideas.
Modern Russian interior decorating style can be remarkably luxurious or elegantly simple, celebrating a fusion of classic and country home design ideas, minimalist  interior and traditional Russian home decor style. Modern interiors, created for a private Russian language school for adults vividly present Russia, a hospitable country with old traditions, its character and unique culture.
Russian Village was opened in Moscow. Fabulous interior decorating ideas beautifully reflect Russian character, past and present, blending the spirit of the early twentieth century Russian home with modern interior design.
Retro style wall tile design for Russian home decorating
Each decorative element of modern interiors in Russian style is  filled with a unique meaning.  Handmade wall decorations and furniture create unique character of Russian heritage home.
The private Russian language school for adults is for those hwo enjoy Russian literature and wants to improve the knowledge of Russian language and culture. Inspired by Russian literature, symbolic and classy interior decorating elements and vintage decor create a special atmosphere of a Russian home in early 20th century.
Carved wood furniture, window bench for retro kitchen design in Russian style
The symbolism is a part of Russian interior decorating style. Comfortable and welcoming modern interior design ideas, vintage decor, warm and relaxing decorating colors create a cottage like atmosphere, typical for Russian home interiors in early 20th century.
Top 5 modern interior trends in 2012 home decorating
Country home decor style for summer house from Russian designers
Natural and pleasant interior decorating colors are very important for creating traditional interior design in Russian style. Green and turquoise, mint and white cream interior decorating colors create a relaxing and warm palette with golden yellow and brown color shades of natural wood.
Vintage furniture and wall decoration for country home living room design in retro style
Flowers in decorative vases, floral curtain fabrics and pillows with roses, natural furniture upholstery fabric with soft stripes or floral patterns and flower paintings add charm and bright color accents to calming and peaceful Russian home decor.
10 room decorating ideas to add chic of modern Art Deco style
Traditional home decorating style
Wood floor and walls, carved wood screens and vintage furniture, blended with soft decorative fabrics and lace create country home-like modern interior decorating in Russian style. Unique wall tiles, large chandeliers, a torchiere, decorated with lace and large table lamps in retro style add comfortable chic to the living room, dining room and kitchen interiors, inviting to watch a movie, listen to music or discuss books, while enjoying meals and tea in Russian style.
design by Viphouse, photos by Luchin
Posted: 16.01.2012 by Decor4all