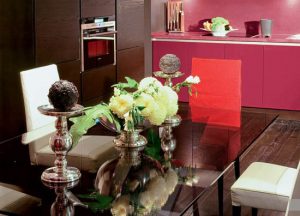 Art deco decorating ideas make modern interior design feel personal and unique. Art deco interiors and the fusion of styles are modern interior design trends that bring modern art into home decor, blending art works and art deco furniture with functional and comfortable interior design for people to enjoy.
The combination of contemporary minimalist and art deco decorating ideas creates modern interior design with impressive wall arts and art deco furniture, strong color contrasts and stylish purple-pink and red color accents. Monochromatic decorating color schemes, beige, cream and dark brown colors, shiny room decor accessories, purple, pink and red color accents emphasize the beauty and elegance of art deco interiors.
Neutral beige, cream and dark brown colors, elegant living room furniture and simple clutter free interior design bring the elegance of minimalist interior decorating into room design. Solid wood and beautiful velvet window curtains, dark furniture and doors add stunning contrasts to art deco interiors with minimalist decorating style flavor.
Fusion of styles
Fusion of contemporary minimalist and classic home decorating styles
Fusion interior design style, beautiful room decorating ideas
Modern interior trends in decorative fabrics
Light living room furniture, a sofas and chairs, contemporary chrome ceiling lighting fixtures and a unique floor lamp in retro style, bright room decor accessories, cushions and floor rugs, and art decor on walls create beautiful and modern art deco interiors that make a strong artistic statement.
Contemporary abstract art decor on walls looks especially dramatic, enriching art deco decorating ideas and bringing unique room decor accents into elegant art deco interiors in minimalist interior design style.
Living room, dining room and kitchen look spacious and comfortable. Unique living room furniture upholstery fabric and art deco furniture pieces, retro style table decorations and contemporary art decor of walls, shiny room decor accessories, purple, pink and red color accents further strengthen the effect.
Contrasting decorating color schemes, that include beige, cream and dark brown colors, look stylish with cushions in black, light gray and yellow colors. Shiny room decor accessories, ceiling lighting fixtures and red color accents add chic to comfortable art deco interiors in minimalist decorating style.
Art Nouveau and Art deco interior decorating styles
Modern bathroom decorating in Art Deco style
Art Nouveau home decorating ideas, spiced with Indonesian handicraft
Art Nouveau decorating style, beautiful room decor ideas
Posted: 15.10.2011 by Decor4all