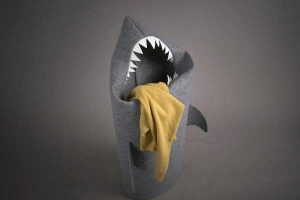 Shark felt basket is a nice accessory to add to your laundry room or kids rooms, emphasizing nautical decor theme. Made of felt, this Shark basket looks very realistic, and is excellent storage ideas for clothes and toys. Neutral gray color and white details will easily match any room decorating colorscheme, creating a sense of adventure and enriching your nautical decorating theme.
Shark basket from etsy.com is an unusual, functional and interesting kids room decorating idea. It can be placed  beside a bed or in a closet in your kids rooms. It can add a surprising and very decorative accent to your bathroom or laundry room decorating, offering convenient and practical storage for clothes or toilet paper rolls.
Shark felt basket will look gorgeous on the porch or beside the swimming pool, used for a blanket, floating toys or pillows storage also. Nautical decor and beach home decorating ideas will look more interesting and unique with this creative and fun accessory.
Nautical decor, contemporary kitchen design inspired by nautical theme
3 story penthouse in Sochi, nautical decor ideas
Shark felt basket for storage
Handmade felt basket, home accessory for nautical decor theme
The handmade felt basket can be positioned as a free standing decor accessory in the room or placed in the corner behind furniture, but also, thanks to its beautiful soft material, it might be squeezed behind a chair or a washing machine without losing none of its aesthetic appeal.
Shark basket features a minimalistic character and humorous design. Functional and very decorative, this accessory is great for those who appreciate nautical decor theme and look for attractive and comfortable storage solutions.
Storage basket for laundry room
Handmade Shark basket is versatile, suitable for outdoor rooms and interiors, big spaces and small rooms. The nature inspired design look gorgeous, blending well with traditional or modern home decorating ideas.
Nautical bedroom decor, bright colors, fun decorating ideas for kids rooms
Nautical decorating ideas for kids rooms from Pottery Barn Kids
Creative storage idea, handmade nautical decor accessory for beach home decorating
Posted: 21.08.2012 by Decor4all