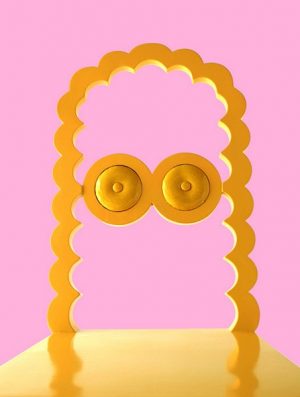 Unique furniture set from 56th Studio are incredible and bright. Simpsons chair set looks bold, humorous and playful. Unique furniture design ideas are innovative and entertaining, making kids and adults smile and talk about popular characters that inspired these designer chairs in optimistic and sunny yellow color.
56th Studio, www.56thstudio.com/ is a Bangkok based multidisciplinary team of creative designers that work in quirky design and cutting-edge graphical fields. Simpsons chair design ideas are a part of their Caricature Series for creating fresh interpretations of well known pop culture characters.
Simpsons chair set is an artistic way of translating distinctive features of popular characters into modern furniture design, bringing an interesting ad humorous decorating theme into interiors. Playful and unique designer chairs may inspire DIY furniture decoration projects for creating beautiful themed decor for kids rooms or backyards.
Top 5 modern interior trends in home decorating
22 ideas for home decorating with rocking chairs
Simpsons chair set, unique furniture design ideas inspired by Simpsons family show
Chair design description from the designers
We believe that objects possess power of communication; therefore, we decide to take a tongue-in-cheek look at investigating Pop and Hollywood Culture in tangible forms, in hoping that it would make the line that separates Graphic from Furniture become thinner.
The result is, just like caricature drawing, a collection of chairs that is graphically sarcastic, animated in its details, and meticulously unique in the craft of upholstery.
Simpsons family decorating theme, yellow chair with zigzag head
These unique furniture pieces imitate popular culture icons, making design simple and functional. Bright chairs create the classic Simpsons family, artfully crafted and easily recognizable.
Charming dining chairs by EGO 024, dining room decorating ideas
Living room furniture, modern interior trends in sofas and chairs
Unique chairs with zigzag head look familiar. Bright yellow color and unique furniture design ideas bring back lots of memories about all the episodes you watched on TV ad create cheerful room decor.
Posted: 21.04.2012 by Decor4all