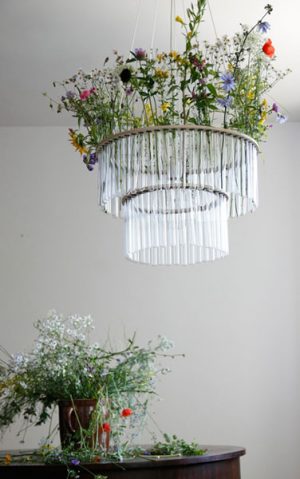 Unusual and extravagant glass tube chandelier Maria illuminates your home interiors while showing your  creativity, personality and a unique sense of style. Inspired by the Art Deco era, modern chandelier is a beautiful home lighting fixture for adding lovely and unique accents to Art Deco home decor.
Reminiscent of Art Deco design, but totally innovative and contemporary, the glass tube chandelier design will look great in artistic and traditional modern home interiors. Chandelier Maria is a creative ceiling fixture that can dramatically transform any room decor, adding color, light and unique Art Deco decor charm to your home.
Ceiling light fixture features a light bulb in the center, surrounded by two rows of glass test tubes. A single or double row of glass tubes make the chandelier a perfect item to add the flavor of exclusive Art Deco style to ceiling decorating.
Neo Baroque home decoration, modern chandelier, craft ideas
Modern chandelier made with glass tubes
Glass chandelier with colored water inspired by Art Deco decor style
When empty, the glass tube chandelier sparkles like contemporary lighting fixtures with crystals in the light. Dazzling icicles make the chandelier look gorgeous in the light.
Chandelier designers from Gang Design, www.gangdesign.pl/suggest to line the glass test tubes with flowers or branches with green leaves to create an amazing overhead bouquet. Flowers and green leaves are excellent for bringing some spring spirit or summer mood into your room decor in any season.
Contemporary chandelier with flowers and green leaves, unique home lighting fixture for Art Deco decor
Your creativity and personality will help transform your home decor ideas by adding a charming decorative item in Art Deco style to the ceiling design.
Art Deco decorating ideas, minimalist-art deco interiors
Stylish bathroom decorating in Art Deco style
Filling these glass tubes with colored water, sand, hay, small pebbles, ribbons, seeds or beads creates interesting color combinations, changing chandelier design, and add surprising accents to your room decorating.
Glass chandelier with indoor plants
This chandelier design is a great inspiration for diy projects, creating artistic items for Art Deco home decor.
10 room decorating ideas to add chic of modern Art Deco style
New classic style with Art Deco elements, light room decorating ideas
Any clear glass tableware can be used for designing a unique chandelier with small vases for whimsical and playful, elegant and beautiful room decorating.
Posted: 06.02.2012 by Decor4all