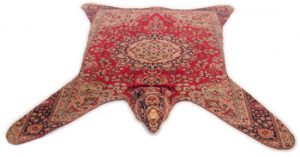 Rugs are an inportant element of interior design. Oriental rugs make interior design feel cozy, creating warm home interiors. Also contemporary rugs are not only functional room decor accessories, but beautiful and stylish decorative accents that blend ols traditions and innovative modern rug design ideas.
Some time ago area rugs demonstrated the high status and wealth of the home owner, today antique and contemporary rugs make bold statements, expressing the home owner's personality and taste. Contemporary rugs became decorative accents that add a splash of stylish color and unique design to home decor.
Contemporary rugs for any floor decor styles work well, uniting home furnishings, furniture, floor lamps and room decor accessories, balancing interior design ideas and creating pleasant, warm and cozy room decorating. Contemporary rugs are excellent room dividers, that separate zones in one room. Modern rugs for entry rooms create welcoming atmosphere. An attractive area rug defines the bed area in the bedroom and makes a seating area in the living room feel intimate and friendly.
Contemporary rugs and floor decor ideas
Modern rug design ideas offer bright decorative accents or create peaceful room decorating, add dynamic color contrasts or bring classy elegance and chic into interior design. Antique and contemporary rugs can create unique focal point of room decorating, enhancing floor decor with unique textures, unusual shapes or stylish color combinations.
Modern rug design trends
Modern rugs for floor decor bring traditionally woven and extra smooth textures into room decorating. Soft and fluffy or sculptured contemporary rugs help designers create unique room decorating ideas and beautiful floor decor for modern homes. Traditional and contemporary rugs patterns beautify modern interior design, bringing intricate ornaments and trendy motifs into room decorating and creating art work pieces for unique floor decor.
Sculptured contemporary rugs
Sculptured contemporary rugs, modern floor decor ideas
Sculptured contemporary rugs for playful kids rooms decor
Modern rug design ideas include  non-traditional techniques, like making rugs of small fabric, fur and leather pieces in the patchwork fabric style.  (Modern interior design trends, inspired by patchwork fabric) Contemporary rugs can be also made of large pieces of antique rugs or pieces of eco friendly felt, that is the result of plastic recycling.
Modern rug design ideas are often inspired by contemporary art and traditional crafts of making area rugs in exotic countries. Modern rug design incorporates traditional patterns and color combinations of oriental rugs from Africa, East India, Iran and Asia into contemporary floor decor, creating new design ideas for modern room decorating.
Modern room decorating ideas
Exotic ikat pattern, modern interior design trends
Contemporary floor decor ideas, the charm of antique oriental rugs
Moroccan furniture, decorating fabrics and materials for Moroccan decor
Art Nouveau decorating style, room decor ideas
Contemporary rugs materials
Traditional natural materials, – wool, silk and cotton, create beautiful, warm and soft eco friendly modern room decorating. Man-made and recycling materials, acrylic, nylon, polyester, polypropylene and eco friendly felt, made of empty plastic bottles, are also used for making contemporary rugs.
Several modern rug manufacturers, including Nanimarquina from Spain, Nodus in France, Alpha Custom Rugs in US, Stepevi in Turkey, Kasthall in Sweeden and other companies create beautiful contemporary rugs, inspired by nature and modern art, that look like unique art pieces for floor decor.
The variety of contemporary rugs styles, production techniques, color combinations and textures allows to find the best modern rug design for your room decorating and add stylish accents to modern interior design with a contemporary piece of art on the floor.
Posted: 11.10.2011 by Decor4all