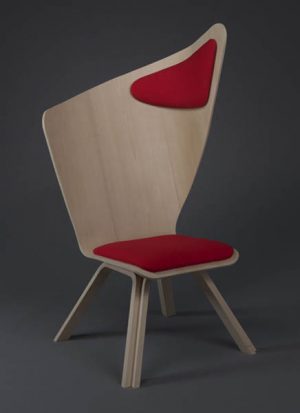 Bravo Chair design is developed by a young Dutch designer for providing some rest during long study sessions. Curvy wooden chair backrest with a soft red cushion looks cozy and provides a comfortable position for a quick rest or just changing the body position for taking a short break from writing.
This modern chair id designed by Matte Nyberg and built of natural wood material in light color. Red seat and head cushions add more comfort and charm to this modern furniture design, blending an innovative and functional design ideas.
Leaning your head on the soft red cushion allows to relax your neck and back muscles. Interesting chair design will be appreciated by students and writers. It can be used during discussions and group meetings.
Chair designs by Gerrit Thomas Rietveld
Unique furniture design, Simpsons Chair set
Contemporary chair design with tall backrest and head cushion, comfortable modern furniture design ideas
Elegant shape and natural material, neutral color tones with bright red accents make this furniture design look original and pleasant.
A strong and contemporary chair design will add charming accents to study rooms and libraries, bringing more comfort into room decor and giving more informal look to public places.
Modern office furniture set by Roberto Lazzeroni
Mini Togo Chairs, playful kids furniture design
Contemporary chair design with red seat and head cushion in red color
Posted: 07.05.2012 by Decor4all