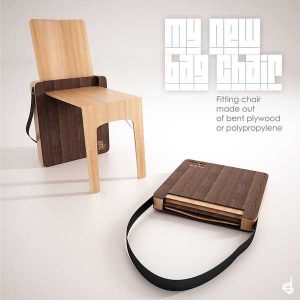 Portable folding chair is made out of bent plywood and polypropylene. Folding chair that turns into a bag is a great gift idea for travelers, musicians, teachers and students. Simple and elegant, this chair design looks stylish, featuring warm wooden brown colors, pleasant geometric shape and convenient strap for caring it around.
Easy to carry chair design is perfect for young people and adults, teens and all who need rest often while traveling. Used as outdoor furniture on deck or porch, these chairs are easy to moved for storage. Bag Chair design offers comfort of an ordinary wood chair, plus the ability to use it anytime and anywhere.
Folding into a bag Chair includes a black shoulder strap. Elegant armrest free chair design is perfect for playing guitar around the camp fire or reading a book in a secluded corner in the park. Contemporary folding chair design is amazingly compact, which makes folding and traveling with it easy.
Bravo Chair design with head cushion, modern furniture design
Recycling old folding lawn chair for unique furniture piece
Folding into a bag chair design
Portable folding into a bag chair design, designer furniture piece made of plywood
Warm brown colors and a neutral black shoulder strap are versatile and can match any interior decor color scheme or outdoor furniture sets.
Portable folding chairs that transform into bags are excellent space saving furniture pieces for small rooms that provide additional seats for guests.
Fitting chair design, unique furniture item and great gift idea
Posted: 22.08.2012 by Decor4all