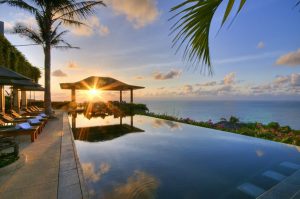 Tropical home decorating ideas inspired by Sew View Villa room decor are a way to create spectacular and exclusive home interiors for luxurious, relaxing and pleasant lifestyle. Beautiful Sea View Villa resort is located in Kamala, Phuket, offering breath taking views and stunning room decor that include contemporary and ethnic interior decorating ideas.
Tropical home decorating ideas bring rich room colors and ethnic patterns, gorgeous furniture and decor accessories, made of exotic wood and stone, soft decorative fabrics and crafty designs, creating luxurious home interiors and relaxing atmosphere.
This five bedroom villa is a part of a five star private and prestigious resort. The vills is nestled on a gentle hillside on the west coast of Phuket, overlooking the pristine Andaman Sea.
Balinese room decor, tropical theme in Asian interior decorating
Hawaiian decor, Aloha style tropical home decorating ideas
Room decor for tropical home
Tropical villa with outdoor pool
The stylish, elegant and comfortable interior design and room decor effortlessly blends traditional Thai elements and tropical decorating ideas with modern facilities to provide a completely relaxing living experience.
Large rooms with windows that provide exeptional views, pleasant room colors and natural materials create warm and inviting room decor, supporting tropical theme.
Living room furniture and exotic wood ceiling design, tropical home decorating ideas
The spacious bedrooms are accompanied by equally luxurious en suite bathrooms with glass walls and corner windows, offering beautiful sea view, celebrate the tropical theme.
20 tropical home decorating ideas, charming Hawaiian decor theme
8 ways to add tropical decor theme and bright color to interior decorating
Dining and living room decor is welcoming and warm. The living space is open onto the pool terrace, seamlessly merging interior and exterior living, emphasizing the beauty of picturesque surroundings and adding the charm of tropical decorating ideas into interior design.
Bedroom design with wooden floor and ceiling design, tropical home decorating ideas
This property is currently on the market, offered at around $9 million.
Tropical decorating ideas, Kenyan home interiors in white and red
Exotic Balinese decor, Indonesian art and Bali furniture for tropical decorating
Tropical home decorating ideas
Posted: 01.04.2012 by Decor4all