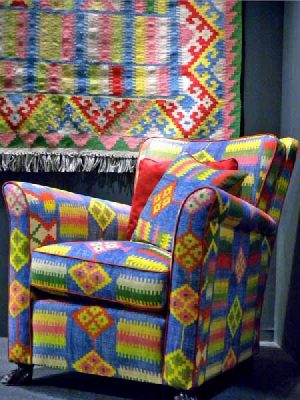 Italian textiles by SIMTA bring rich colors, interesting textures, unusual color combinations, unique fabric prints and patterns inspired by Eastern floor rugs and kilims into modern interior decorating. The Italian company SIMTA produces gorgeous organza and luxurious silk fabrics for curtains, stylish furniture upholstery fabrics and beautiful bed throws.
The latest collection enriches SIMTA's sheer sector with a strong impact and energy, deriving from ethnic patterns and unusual color combinations. The collection is made for diverse tastes and styles, following the latest interior trends in textiles.
The floral and striped fabric prints are patterns that look gorgeous and stylish, interpreting the modern trends of stylized and blurred flowers and stripes. Different weaving techniques range from printing to lacquering of great effect, offering amazing furniture upholstery fabrics and room decor accessories.
Exotic ikat pattern, modern interior trends
Living room furniture, modern interior trends in sofas and chairs
Modern interior trends in textiles and fabric prints, chair upholstery fabric print inspired by kilim
Textiles, dedicated to heavier and thicker sheers, can be used mainly for drapery, double curtains and bedspreads, adding ethnic flavor to modern interior decorating with unique fabric prints and patterns, inspired by Eastern floor rugs and kilims.
Undoubtedly, the collection of decorative fabrics made of linen and cotton, is able to satisfy any taste and match all interior decorating styles. The latest addition to the collection Kilim brings ornaments, inspired by ethnic decor, and reflects the latest interior trends and fashions.
Modern interior decorating ideas, chair upholstery fabric print inspired by Eastern floor rugs and kilims
The collection Kilim includes decorative fabric prints and ethnic patterns, offering the contemporary inspiration and trendy interior decorating ideas. 11 beautiful patterns exactly reproduce decorative motifs of kilim rugs of Anatolian and Persian origin.
Contemporary floor decor ideas, the charm of antique floor rugs
Moroccan furniture, decorating fabrics and materials for Moroccan decor
The digital type of printing is certainly the most advanced printing technology in terms of clarity of the drawings and fabric patterns. Digital printing allows to reproduce a  large number of colors, fabric print details and decorative nuances for exclusive interior decorating.
Fabrics with ethnic motifs for modern interior decorating
The digital printing guarantees a longer period of time life. All the fabric prints and patterns are created on a mixed linen emery fabric with soft touch effect, adding contemporary high quality and elegant beauty to traditional ethnic motifs.
Modern home furnishing colors and decorative fabric prints from Tricia Guild
Beautiful furniture upholstery fabric prints, modern vintage furniture
Ethnic fabric prints and floral designs, modern interior trends
Modern interior trends in decorative fabrics
Modern upholstery fabric prints, living room furnishings, designer fabrics
Modern furniture upholstery fabric prints inspired by ethnic patterns
Posted: 11.04.2012 by Decor4all