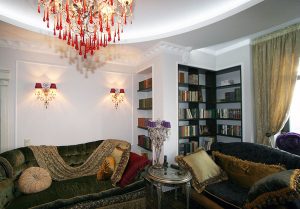 Small apartment decorating ideas for a single woman look charming, comfortable and stylish. Beautiful apartment ideas create peaceful and cozy small rooms for a romantic lady which likes functional chic. Gorgeous room decorating colors and luxurious textures add romantic flavor to small rooms and create pleasant atmosphere for relaxation and fun.
A single girl who prefers classic and elegant designs would like to decorate her small living room with stylish colors, striking designs, inspired by flowers and bright accents. Dark and white colors and sharp contrasts fill small rooms with energy, while creating airy and spacious small apartment decorating.
Open small spaces look larger and more inviting. A bright chandelier and dining chairs in bold red and purple colors are emphasized with luxurious living room furnishings in rich green, brown and golden colors. Black kitchen cabinets and  dining table look gorgeous with striking mosaic tiles and stainless steel details.
Modern small apartment ideas
Ideas for decorating small spaces, modern apartment ideas
10 room decorating ideas to add chic of Art Deco style
Loft apartment ideas and color combination
Light bathroom, foyer and bedroom decorating ideas increase the effect of welcoming space, visually increasing small spaces.
Bright color accents and stylich contrasts make small living room decorating ideas feel cheerful and festive. Soft white tones, selected for bathroom and bedroom decorating, add lightness and freshness to charming small apartment decorating ideas.
Beautiful kitchen cabinets, comfortable living room furnishings, soft pillows on comfortable sofas and pleasant upholstery fabric, are luxurious and functional apartment decorating ideas that will please even a princess.
Decorating ideas for small rooms
Soft and light colors are ideal for small bedroom decorating. Calming and elegant bedroom decor in white and golden colors is enriched with antique like furniture, wood carving and classic moldings.
New 18th century French decorating ideas
Modern interior decorating in eclectic style with Parisian chic
Silky upholstery fabrics with floral designs, a large crystal chandelier, an elegant table lamp and light window curtains create charming monochromatic color scheme for exclusive small bedroom decorating.
Modern chandelier in Neo Baroque style
Small bathrooms add contemporary comfort to chic apartment ideas. The main bathroom decorating ideas are light and match the small bedroom decor. Another small bathroom is decorated in dark colors with gorgeous glossy wall tiles, shiny sink and faucets.
Get inspired by bright and comfortable, romantic and luxurious small apartment decorating ideas on photos. Ask  your landlord what you can do with living space you rent. You might be surprised, but most are fine with simple room decorating ideas, light wall painting, hanging wall decorations, changing lighting fixtures and replacing existing window treatments.
If you own a small apartment, it is easier to create personal and stylish home decor. Small rooms can be comfortable and stylish. Experiment with simple and modern room decorating ideas and create home interiors that your love.
Posted: 03.12.2011 by Decor4all