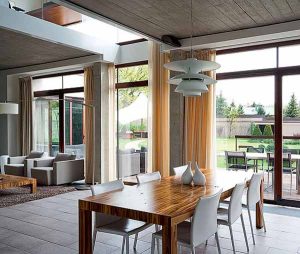 Minimalist style appeared in Europe between the 20s and 40s and got popular in the 40s. Interior design in minimalist style reflected the deficit of building and decorating materials, furniture, decor accessories, lighting fixtures and household items after the World War II. The fundamental principle of minimalist style is maximizing of free space and creating functional, clutter free home interiors that are elegant and inviting.
If you are tired of your cluttered rooms with lots of furniture and decor accessories modern interior design in minimalist style may work well for you. If your collection of souvenirs only collect the dust on shelves instead of bringing pleasant memories about exciting vacations, select interior design in minimalist style. If you like light and airy, functional and modern interior design ideas, the minimalist style is perfect for you.
Light neutral colors and simple surfaces visually enlarge the living space and create the pleasant illusion of high ceilings and airy interior design. Modern interior design in minimalist style allows simple and more complex forms, the installation of smaller partition walls and adding impressive lighting fixtures. Furniture in minimalist style are sleak and elegant.
Contemporary homes, interior decorating in white
Contemporary home in Los Altos Hills, modern interior decorating ideas
Minimalist interior design style
Contemporary room decorating with bright color accents, minimalist interior design style
Modern furniture in minimalist style can be a creative blend of several items into one. A small desk, combined with a bed, or a folding down bed hidden in the closet make interior design in minimalist style more functional ad space saving.
Upholstered furniture is simple and practical also. Bright decorating colors and strong contrasts can be used for adding drama and dynamic accents to modern interior design in minimalistic style. Simple and elegant living room sofas and chairs in plain neutral colors are complemented by colorful pillows and wall decorations.
Contemporary dining room decorating, minimalist dining furniture, decor accessories and lighting fixture in light neutral colors
Minimalist style is great for apartment decorating, if you rent it. THe simplicity of interior design in minimalist style is ideal for hotel room decorating.Modern furniture and decor accessories in minimalist style make even small interior design practical, comfortable and attractive.
Decorating small spaces, Melbourne apartment ideas
Minimalist interior design style, urban apartment decorating ideas
Decorative accessories and interior design elements in minimalist style are often small or functional, like seashells, scattered on the table, candles on a window sill or a floor rug that unite a living room sofa and a coffee table, creating comfortable room decor.
Ethnic decorating ideas in Japanese style, minimalist interior design
Interior design in minimalist style calls for functional lighting fixtures, that include task lighting for working areas, reading places, decorative lighting for window frames, door arches, wall niches, shelves and kitchen islands. Attractive lighting fixtures add more warmth and comfort to simple and cool interior design in minimalist style.
Techno interior design style, contemporary room decorating ideas
Fusion of contemporary minimalist and classic home decorating styles
Minimalist interior design style is associated with contemporary lifestyle. The simplicity of the minimalist style calls for clean ans light shapes and the functionality of furniture or decor accessories details.
Minimalist living room design with large windows and simple furniture in contemporary style
Minimalist interior design is about living space planning and zoning, which can be achieved by using different colors for floors, sliding walls, glass wall designs and sheer fabrics. Open floor plan and functional zones make minimalist interior design ideas comfortable and popular. The kitchen can be a part of a studio apartment, separated by a bar table or a peninsula design. The bedroom can be created with a room divider, an aquarium, a shelving unit or a partition wall.
Minimalist bathroom design, light and airy interior for contemporary homes
Windows are important elements of minimalist interior design style. Large windows bring lots of natural light into contemporary homes, creating bright and pleasant home interiors in minimalist style. If you need to used window coverings, blinds and shades in monochromatic or pastel color tones are great for room decorating in minimalist style.
Posted: 02.05.2012 by Decor4all