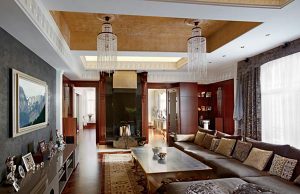 Arabic decor brings unique vibe into modern interior decorating. Exclusive penthouse interiors with Arabic flavor are designed by architectural studio Nograph in Moscow. Luxurious three story penthouse design is located in Moscow and offers comfortable and beautiful ethnic interior decorating with exotic flavor of  Arabic decor.
Arabic decor style is amazing and gorgeous.  Arabic home decor ideas attract attention of world's most famous interior designers, reflecting one of modern interior design trends of creating beautiful and unique rooms with an ethnic interior flavor.
Arabic home decor ideas are popular and loved by people who appreciate comfortable chic and luxurious functionality of natural fabrics and interior decorating materials. Arabic decor accessories and furniture, wonderful textures and detailed ornaments, unusual color combinations and intricate motifs in Arabic decor add coziness, warmth and exotic flavor to this unique interior design style.
Arabian Nights themed party table decorating ideas
Marrakesh pink-orange table decoration in Moroccan style
Modern penthouse in Moscow with Arabic decor
Arabic home decor ideas, unique lights, silk rugs and luxurious decorating fabrics
Arabic decor includes Moroccan interior decorating ideas, bringing stunning home decorations and unique Arabic touches to modern interior design, and creating warm and welcoming rooms, perfect for relaxing and pleasant lifestyle.
Wool rugs and decorative cushions, luxurious draperies and carved wood furniture bring ethnic interior flavor of Arabic decor into modern penthouse design. Arabic decor motifs make plaster ceiling decoration and crystal chandelier design look exclusive, adding ethnic interior details to dining room decorating.
Silk rugs and Arabic decor accessories for modern bedroom decorating
Stained glass windows remind traditional Arabic arabesque patterns. Beautiful stained glass windows create a stunning glare, lighting up a room and filling an ethnic interior with romantic atmosphere. Plaster moldings and beautiful wallpaper add attractive Arabic decor motifs to modern interior design.
Moroccan decor, Moroccan decorating color schemes
Moroccan furniture, decorating fabrics and materials for Moroccan decor
Carved wood decorations and mosaic tiles add Arabic decor motifs to ethnic interior design. Green color shades of mosaic tiles in the bathroom, arabesques and Arabic decor accessories create pleasant interior design in Eastern style.
Modern bathroom decorating with mosaic tiles and Arabic decor accessories
Comfortable brown and green color shades of soft furniture upholstery fabrics and wallpaper, combined with golden colors, silk rugs and soft light create rich Arabic decor in the bedroom.
Top 5 modern interior trends in home decorating
Egyptian interior style, modern room decorating ideas
Staircase design with mosaic tiles and carved wood decoration, ethnic interior design
Arabic decor motifs in modern interior design
Posted: 10.04.2012 by Decor4all