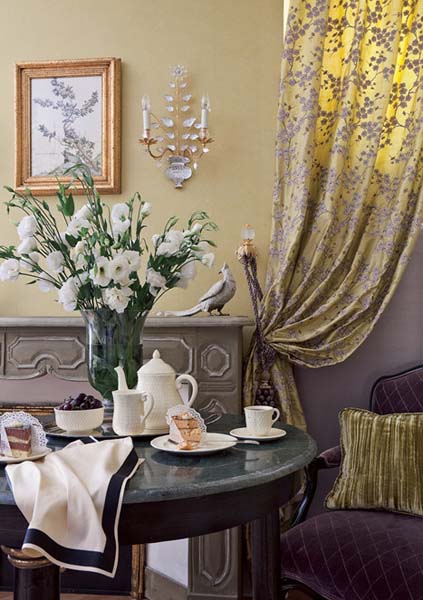 Traditional home decor is about comfort with some functional luxury. The classic style add elegance and chic to modern interior design, creating beautiful home interiors that feel inviting, warm and pleasant. This large apartment decorating in Moscow demonstrate gorgeous classic style and inspired by interior design of an American traditional home.
Architect and decorator Yulia Nesterova created these beautiful apartment ideas for a family in Moscow, inspired by American traditional home decor in classic style and showing her personal interpretation of this gorgeous decorating style.
Neutral interior decorating color scheme with soft accents in tender lavender and warm green colors, spacious apartment ideas, large and comfortable room furniture in American style and charming decor accessories create traditional home decor that is elegant, calming and inviting.
Modern interior design in neo-classic style, beautiful mansion in Beverly Hills
Modern room decor, traditional home decorating style
Living room fireplace, off-white living room furnishings with black accents, traditional home decor style
Solid wood furniture and golden home decorations, striking black and golden color combination are chic apartment ideas that look classy and luxurious.
Natural materials, like wood and wool, silk and glass, high quality room furniture and decor accessories enrich traditional home decor and emphasise its classic style.
Dining room decorating with table and chairs in black and golden colors and crystal chandelier
The black and golden color combination, use of whites, neutral interior decorating color scheme, decor accessories that look antique, simplicity and elegance of lines that create modern interior design that has American traditional home charm.
Neo-classic style with Art Deco elements, light room decorating ideas
Modern interior trends, decorative fabrics
Home furnishings in classic style, golden frames, candle wall lights, beautiful window curtains with floral designs
Modern apartment ideas inspired by the classic style make home interiors look they could be designed years ago or yesterday, offering comfortable room furniture and decor accessories, created for modern lifestyle in  a traditional home.
Modern interior decorating with silver, orange and dark room colors
How to use antiques for modern interior decorating in classic style
Apartment decorating ideas in classic style
Photographs by Caro Avan-Dadayev
Posted: 03.04.2012 by Decor4all