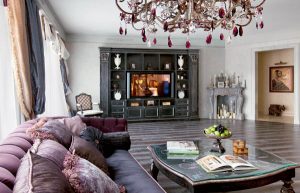 Interior decorating in Eastern Mediterranean style from Russian architectural design studio IntraDesign harmoniously blend Italian luxury and exotic Eastern charm. Moscow apartment decorating ideas add eclectic flavor to glamorous Italian motifs and Eastern Mediterranean home furnishings, creating bright and exclusive home interiors that feel modern and comfortable.
Antique and contemporary decorative items, new technology and classic interior decorating ideas are combined to create  sophisticated modern home interiors, spiced up with Eastern Mediterranean style.
Large apartment decorating ideas emphasize huge windows with a picturesque view of a public garden. Eclectic interior decorating celebrates warm and welcoming Mediterranean  style, bringing the spirit of romantic Venice and blending it with Eastern luxury.
Modern living room design, Italian style chandelier, decorative stone fireplace and luxurious living room furniture in rich purple and black colors
Nostalgic shabby chic designs add soft, muted colors, making interior decorating feel cozy and romantic. Different colors unite all home furnishings and architectural features, creating unique and colorful Eastern Mediterranean style.
Mediterranean atmosphere is created with uneven board flooring wide board and elegant blue-gray-brown color palette, give a stunning accents of antiquity to interior decorating.
Hookah room decorating in Eastern Mediterranean style, burgundy red, purple and black decorating color palette
Inspired by the sea depth, the noble blue-gray color palette with whitewashed vanilla and lemon yellow color shades looks gorgeous. Combined with burgundy red and purple color shades it creates tranquil and comfortable interior decorating. Bold home accents and unique decorative items add an eclectic spice with rich colors, celebrating ethnic Eastern Mediterranean style.
Minimalist interior decorating style, urban apartment ideas
Decorating small spaces, Melbourne apartment ideas
Stucco, stone mosaic tiles, ethnic paintings on the walls, combined with furniture and decorative items in Italian style work well together. Room furniture with an antique finish, luxurious velvet and silk fabrics, patina, silver candle holders and exclusive chandeliers with Murano glass, unpolished stone fireplace and beautiful interior decorating color palette are top key takeaways from this project.
Master bedroom decorating ideas inspired by glamorous Venice, golden-gray, cream and burgundy-red decorating color palette
Interior doors merge with multi-layered walls and almost invisible. Art paintings and exotic home decorations make modern interior decorating ideas more expressive.
Charming small rooms decorating, single woman apartment ideas
Modern interior decorating in eclectic style with Parisian chic
Modern home interiors that blend classic Italian style with Eastern Mediterranean and ethnic designs reflects the character and temperament of the popular Russian pop singer and his wife. Versatile and stunning interior decorating ideas are a creative mix of Eastern and Western traditions, inspired by the grace of Venice and Eastern warmth.
Photographs by Livshizz
Posted: 01.02.2012 by Decor4all