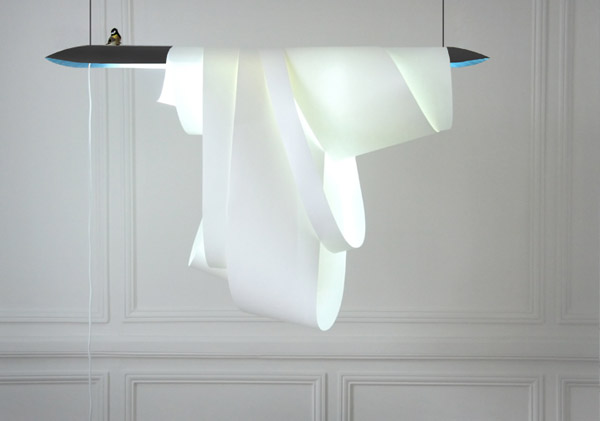 Modern home decor ideas from Constance Guisset offer innovative design and interesting concepts for creating impressive and stylish contemporary home interiors. Unique lighting fixtures and wall decor, contemporary furniture and storage ideas look fresh and surprising, functional and comfortable.
Amazing MO Lamp and SOL Rocking Chair from modern French designer Constance Guisset, www.constanceguisset.com/ are created for Molteni&C. The lighting fixture is made of circular and straight tubes and look very unusual. The rocking chair features light design and available in bright yellow, deep blue and black colors.
The Angelin Lamp is a paper lamp that can take multiple shapes. With a metallic structure containing a neon light and few rolls of paper, it is easy to create unique and bright atmosphere, playing with paper layers and various transparencies.
New 18th century French decorating ideas, rediscovering French style
Modern interior design with French chic, exquisite room decorating ideas
Lighting design
Large ceiling light, modern home decor ideas from French designer
Product descriptions from the designer
Coulisse is a black wall mirror with a magnetic system. When the glass bubbles touch the mirror, they switch on and remain on the surface. The bubbles reflect on the surface and create an imaginary landscape between danse mirror and constellation. Surprise comes with the switch on by magnets and the sudden colored transparency of the material.
Posted: 06.04.2012 by Decor4all