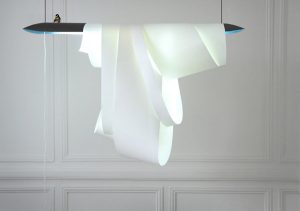 Modern home decor ideas from Constance Guisset offer innovative design and interesting concepts for creating impressive and stylish contemporary home interiors. Unique lighting fixtures and wall decor, contemporary furniture and storage ideas look fresh and surprising, functional and comfortable.
Amazing MO Lamp and SOL Rocking Chair from modern French designer Constance Guisset, www.constanceguisset.com/ are created for Molteni&C. The lighting fixture is made of circular and straight tubes and look very unusual. The rocking chair features light design and available in bright yellow, deep blue and black colors.
The Angelin Lamp is a paper lamp that can take multiple shapes. With a metallic structure containing a neon light and few rolls of paper, it is easy to create unique and bright atmosphere, playing with paper layers and various transparencies.
New 18th century French decorating ideas, rediscovering French style
Modern interior design with French chic, exquisite room decorating ideas
Lighting design
Large ceiling light, modern home decor ideas from French designer
Product descriptions from the designer
Coulisse is a black wall mirror with a magnetic system. When the glass bubbles touch the mirror, they switch on and remain on the surface. The bubbles reflect on the surface and create an imaginary landscape between danse mirror and constellation. Surprise comes with the switch on by magnets and the sudden colored transparency of the material.
[ad#link
Airn is a creative set of wooden magnetic boxes that can be assembled in awkward positions.
Star furniture collection consists of fifteen elements like a stool, a bat stool, a coffee table, a large table, two bars, a welcoming desk, two shelves and five exhibition stands for the library. They are painted in grey nuances except for the main elements which are in black color.
Contemporary lighting fixture and stools
Dancing Chair was presented in Paris and Milan in 2009. The rocking chair creates an attractive ensemble with a comfortable footrest. The seat rests in the wooden structure, like suspended in a crinoline.
Elegant French home interior trend, light room decorating ideas
Modern interior design and decor with Southern French Flavor, Villa M in Austin
TRI3 is an unusual, functional and innovative garbage can, convenient for sorting items. The left pedal opens the highest can in a traditional way.  The middle pedal makes the second can rotate around a decentred axe. This can is for packaging, plastic, etc. The right pedal makes the last can move towards the user. The last can is for glass discarding.
Garbage can with three containers for sorting
Funambule cutlery collection can be assembled together to form a stable mobile, a table stabile. The knife has a 2 symmetric holes where the fork and spoon can be placed. The knife rest becomes a supporting platform for the equilibrium. One small notch on each side of the fork and spoon's handles helps the fork licking automatically at the right place for equilibrium.
French country home decorating ideas from Provence
Modern interior design in eclectic style with Parisian chic
Mezzanine won the Public Prize in 2008. Mezzanine combines an aquarium for fish and a bird cage to allow a continuous exchange between animals belonging to two different worlds.
Furniture and decor accessories
Posted: 06.04.2012 by Decor4all