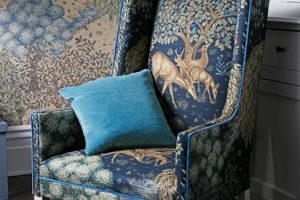 Beautiful home fabrics created by English artist and designer William Morris this year looks glorious and classic. Morris & Co decided to launch a new series of decorating fabrics and modern wallpaper patterns which offer fantastic opportunities to add English classic style to any room decorating….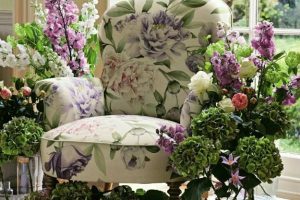 Beautiful wallpapers and upholstery fabrics with floral designs are timelessly modern trends in decorating that help create romantic, stylish and very attractive interiors in classy vintage style. New wallpapers and upholstery fabrics offer fabulous collections of decorating materials. Decor4all shares interior decorating ideas from Zoffany. Woodville…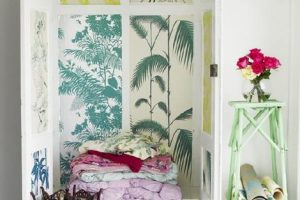 Creative furniture decoration ideas turn functional cabinets, bookcases and shelves into attractive items that personalize interior decorating and make a statement. Neutral colors, contrasting and bright color combinations and modern wallpaper patterns add bold and exciting accents to your home decor, updating, recycling and upcycling old…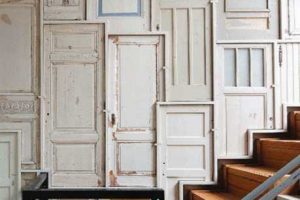 Patchwork wall design is a modern interior trend that is inspired by patchwork fabrics and a craft that was born out of frugality. Women would save scraps of fabrics until they had enough to piece together a quilt. Stylish patchwork wall decor, created of different tiles,…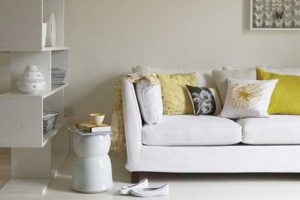 Light gray and yellow color scheme with comfortable fall decorating ideas feel calm, inviting and elegant. Inspired by golden yellow fall foliage, light yellow paint colors or beautiful wallpapers, gray and yellow decorations on walls and home furnishings create warm and relaxing atmosphere and pleasant fall…

One wall decoration with modern wallpaper in bright colors, combined with painting three walls white or light cream color, and colorful bedroom decor accessories, are stylish bedroom decorating ideas that create personal, interesting and modern interior design.

Black-n-white wallpaper looks great with white paint and bedroom decor accessories in soft pink, purple, yellow, blue and green colors, offering tranquil, relaxing and peaceful bedroom decorating.

Painting walls white and creating attractive one wall decoration are modern interior decorating trend that add more color and interest to home interiors. Modern bedroom decorating ideas, that include beautiful wallpapers in soft colors are perfect for spacious and fresh rooms.